Features & Amenities: Oxford Resolutions Outpatient & Sober Living
Take a look at the features, amenities and types of therapies offered to you at our sober living facility.
Holistic Therapies
Art therapy: Similar to our program at Oxford Etta, our outpatient program also offers art therapy, proctored by licensed specialists."
Music therapy: You'll have the option of participating in music therapy at our Oxford outpatient facility, one of many unique holistic experiences we offer."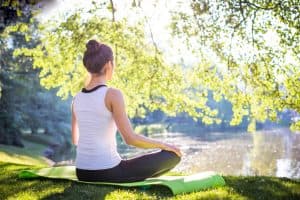 Yoga. Yoga isn't just a good workout, it can also be an important part of treatment at Oxford outpatient, allowing you to learn healthy ways to quiet your mind while also strengthening your body.
Mindfulness. Knowing oneself is important for building self-confidence. At Oxford outpatient, mindfulness sessions will help you reflect on your treatment and your sense of self.
Recreational Amenities
Sand volleyball court. Who doesn't love a bit of volleyball during a warm summer day? Our sand volleyball court is open year-round, weather permitting. You can have fun while connecting with your peers during non-programming hours.
Basketball court. We also have a basketball course, stocked with the necessary equipment to play a game, if you feel like shooting some hoops on a lazy summer afternoon.
On-site AA and NA Meetings
Our outpatient facility facilitates regular Alcoholics Anonymous (AA) and Narcotics Anonymous (NA) meetings, hosted by local chapters of the group.