The MISSION Act and Community Care Providers for Veterans
In 2018, the Department of Veterans Affairs launched the MISSION Act, followed by the Veterans Community Care Program in 2019, to improve and expand health care benefits for veterans and their caregivers. The initiatives were designed to make accessing physical and psychological health care faster and easier for all veterans, within both the VA health care system and in community care settings.1
In this article, you will learn about:
The MISSION Act and its connection to community care providers.
How to get treatment at the VA and why the VA may not have enough space for treating every veteran with a mental health disorder.
How you can use a community care provider for your addiction treatment when you cannot access treatment with the VA.
What Is the MISSION Act?
The MISSION Act was designed to improve access to healthcare for veterans, both within the VA healthcare system and in the community, and to expand benefits for veterans' caregivers.
The Veterans Community Care Program replaced the Veterans Choice Program (VCP) in June of 2019.2 Veterans who were eligible for community care under the VCP may be "grandfathered" into the Veterans Community Care Program if eligibility was based on distance from a VA medical facility.3
Veterans whose eligibility was not based on distance, or those previously not eligible for community care, are encouraged to discuss the new requirements and what they might mean for them.
The new eligibility criteria cover 6 possible situations in which a veteran may receive a referral to treatment from a community care provider. Only 1 of the 6 criteria needs to be met to qualify. However, the veteran must already be enrolled in or be eligible for on-site VA health care before they can qualify for community-based care.3
Eligibility criteria include the following situations: 3
Service is unavailable at the VA—examples include maternity care and in-vitro fertilization.
Facility is unavailable—there is no full-service VA medical facility in the state or US territory of residence.
Grandfathered in—the veteran met eligibility for community care on distance criteria under the Veterans Choice Program.
Best medical interest of the veteran—referral to a community provider was determined by a VA health care provider to be in the veteran's best medical interest.
Quality standards are not met—the VA's medical service cannot provide care meeting the VA's quality standards.
Access standards are not met—average drive time or wait time for an appointment is longer than the VA's acceptable standards.
Using a Community Care Provider for Substance Rehabilitation Treatment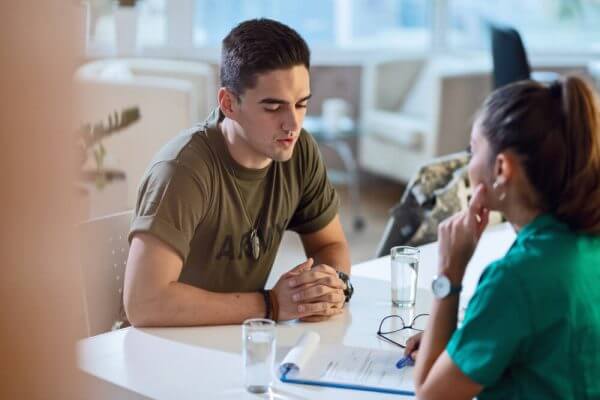 The VA healthcare system is ready to work with veterans and caregivers to arrange access to needed treatment from community care providers, a situation that may be especially important to veterans struggling with addiction who have been on waitlists for an opening in high-demand VA substance or alcohol abuse programs.
The Community Care Quick Start Guide describes the process for receiving care under the Veterans Community Care Program, from determining eligibility to referrals and scheduling, to receiving treatment, and finally to payment/billing.
VA resources are available for veterans and caregivers to access online to get more information on many of these topics. Some relevant resources include:
Treatment Through a Community Care Provider
The U.S Government recognizes that military service takes a toll on mental health and is increasing the amount of the yearly funding the VA receives from Congress that will go to mental health treatment.4
However, even with increased funding for resources and staff to provide addiction treatment, physical space limitations may still mean that there will not always be a space available in existing rehab programs at the time a veteran is seeking treatment.
Retired service members may prefer to receive treatment for addiction in a facility outside the VA. The MISSION Act and the Veterans Community Care Program make it easier for veterans to receive community-based addiction treatment. This means that more veterans can get treatment for drug or alcohol use disorders in a setting best suited to their needs.
If you are a veteran in crisis or concerned about one, reach out to the Veterans Crisis Line.
Call 800-273-8255 and press 1
Text 838255
Call TTY if you have hearing loss 800-799-4889
American Addiction Centers' Salute to Recovery Program
American Addiction Centers (AAC) offers a rehabilitation program specifically for veterans with substance or alcohol use disorders. The program, Salute to Recovery, was designed to address the unique challenges of former military service members—based on an understanding of the ways that military experiences, mental health, and addiction are related. Salute to Recovery rehab programs help veterans learn that addiction is a disease, not a weakness, and give them coping skills to maintain sobriety after treatment is completed.
This program is offered at Oxford Treatment Center, and we are in the VA's network of approved community care providers. The program is also available at several other rehab centers in the American Addiction Centers portfolio, including the following:
Desert Hope, another of the AAC facilities where the Salute to Recovery program is offered, is a full-service rehabilitation center in Las Vegas. Desert Hope is experienced in providing treatment for veterans from all branches of the armed forces using evidence-based therapies such as cognitive-behavioral therapy and a specialized curriculum in anger management, conflict resolution, coping skills, and couples and family counseling.
Recovery First, located in Hollywood, Florida, is another Salute to Recovery facility. They offer treatment for veterans with substance or alcohol use problems and co-occurring mental health issues, such as post-traumatic stress disorder (PTSD), anxiety, or depression.
Therapy options include cognitive-behavioral therapy, pain management treatment to address long-term mental health consequences of chronic pain from service-related injuries, and eye movement desensitization and reprocessing (EMDR) therapy for trauma, among others.
Addiction Treatment Options at the VA
The VA has effective, evidence-based programs and services for alcohol and substance use disorders, and for problems related to substance use, which can range from unhealthy alcohol use to compulsive addictive behaviors that have become life-threatening.5
Before discussing treatment options with a VA provider, the veteran can use the VA's online screening tools for substance abuse6 and online screener for alcohol abuse7 to help the veteran and the VA provider understand better which substances are most problematic, or in what situations the vet's substance use is likely to become problematic or get out of control.
VA addiction treatment providers know that alcohol or substance use problems can be chronic and that veterans may require continued care for long periods of time. Residential treatment may be offered to veterans who live too far from a VA clinic to make the trip regularly, or for those whose living situation is unstable.5
Veterans who are near a VA facility can also choose residential, or inpatient, treatment, or choose to attend VA treatment programs during evening and weekend hours, allowing them to maintain work and family schedules.5
An online search tool allows veterans or caregivers to locate nearby substance use disorder programs, both in VA facilities and through community care providers that are in the VA network.
A first-time screening for alcohol or tobacco use is the first step in all care locations. After the screening is completed, other VA health care providers can discuss the options for addiction treatment in the VA, which include:5
Medically managed detoxification to safely manage withdrawal, including monitoring after detox to ensure medical stability.
Inpatient residential (live-in) care.
Continuing care after detox and residential treatment to prevent relapse.
Intensive outpatient treatment.
Short-term outpatient counseling with a focus on motivation.
Marriage and family counseling.
Self-help groups.
Veterans made more than 58 million appointments for VA care in the last fiscal year.8 This means that there may be long wait times for openings in VA alcohol or substance use treatment programs.
This is why the MISSION Act and community care providers initiatives were implemented—to broaden the network of VA-approved providers and speed access to treatment, including treatment for addiction and other mental health disorders, for all veterans.
References:
We've helped 1,000s Start Recovery
Let us help you get started with the rest of your life! Take a step back from your life and get the help you need at our premier drug and alcohol addiction center. Nestled in the countryside 1.5 hours from Memphis, Oxford gives you the support you need in a calm and beautiful setting.