Heroin in Memphis
726: Narcan doses given by Memphis EMS teams to treat opiate overdoses in 2010
1495: Projected number of doses to be given in 2016
— Source: Memphis Fire Department
The Heroin Epidemic: Lives Worth Saving
Heroin will grab you like the devil's claw, insidious and powerful. Its grip on individuals — on families, on entire communities — is proving to a hard snare to escape.
But at a recent forum in Memphis, Tenn., a rare gathering of police, first responders, addiction treatment specialists, recovering addicts and family members focused on a first defense. A pry bar to loosen the death grip of heroin; a way to find hope for freedom, and meaning in loss.
Simply put: Stop the silence.
"The naked truth is exactly what we need to share with each other," said Chief Michael Rallings, director of the Memphis Police Department, at the panel event "The Heroin Epidemic: Lives Worth Saving."
The Aug. 19 forum was held at Heartsong Church in Cordova, Tenn. Joining Rallings on the panel were Pam Kiestler, deputy chief of EMS for the Memphis Fire Department; Tom Fowlkes, MD, founding Chief Medical Officer for Oxford Treatment Center; and Bethany Morse, an Oxford Treatment Center alum who now advocates for others' recovery.
"There's power in just telling the truth about things we want to just sweep under the rug," Rallings said. "We cannot remain silent. We have to be part of the solution."
Leading the event was Memphis-based AAC Treatment Consultant Angela Quadrani, who helps families and individuals find the treatment program that best matches their needs. The forum revealed both the depth and breath of the growing heroin epidemic in the Mid-South, she said.
"Seeing the problem through our experts' eyes and hearing the statistics they shared confirmed what we have observed on the treatment side," Quadrani said. "Heroin is taking hold in Memphis — and in the suburbs, too.
"At the same time, the brave audience members who shared their own experiences remind us how deep the problem goes. It completely takes over the life of each individual, each family. Once you are addicted to heroin, you will either spend the rest of your life doing whatever it takes to stay clean, or it will kill you. There is no going back. We want to equip people to choose that first path and stay on it. You truly can build a new life in recovery."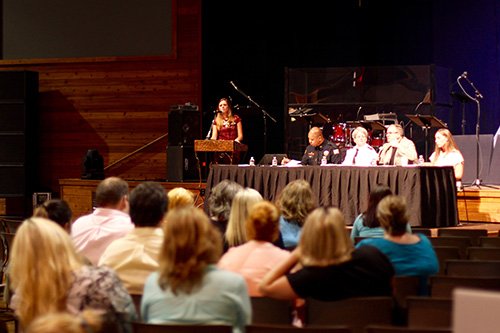 A living testament to that truth, Morse shared her story of heroin addiction and recovery, earning applause from the audience and even her fellow panelists. She is currently pursuing a degree in social work and volunteers with Tennessee Overdose Prevention, in addition to being an administrator for the Facebook page Memphis War on Heroin.
Morse said her son was born opioid-dependent because of her use of physician-prescribed Subutex (buprenorphine), which a doctor told her was safe to use during pregnancy. After his birth, Morse was determined to stay clean.
"It's amazing to see someone who can overcome something so powerful for their child," Kiestler affirmed after hearing Morse's story. Kiestler said the number of babies born addicted to opiates in the United States tripled between 1999 and 2013.
"When I was looking at our own overdose figures, the ages have ranged from 2 months old to 101 years old," she said. "I'm actually encouraged by the data from this year. The youngest person so far was 14."
Kiestler said that when Memphis EMS teams respond to a drug overdose, the caller most often identifies the emergency as something else.
"Usually, the call comes because someone's not breathing anymore or they're having seizures," she said. "We often have to play the role of medical detective and figure out the most likely causes."
The Memphis Fire Department is among first-response departments across the nation boosting its inventory of Narcan (naloxone), the lifesaving antidote for opiate overdose. Kiestler said the department is on track to administer nearly 1,500 doses of Narcan this year — more than double the amount it used in 2010.
"We will spend $75,000 this year on Narcan," she said. "But it's worth it. Narcan is absolutely key in saving lives."
Kiestler said that even when people who have overdosed are revived with Narcan, they must still get medical attention, since the effects of heroin last longer than that of its antidote. For Morse, helping families get access to Narcan and learn how to administer it has become a passionate cause.
"I encourage people: Please buy it," Morse said. "If your loved one is using, if your loved one is in recovery, if your loved one says they're clean — buy it. Those who are clean actually have the highest risk of overdose, because they don't have the same tolerance as they did before detox."
Even when someone responds well to treatment for heroin addiction, the threat of relapse is real. Recovery is a long-term endeavor. Fowlkes, who is board certified in both emergency medicine and addiction medicine, confirmed that in his experience, heroin and other opiates create the most challenging kind of addiction to treat.
"The cravings that people fight are intense and can last many months after someone gets clean," he said. "Imagine how hard that would be: Every waking moment, you're thinking about it."
Rallings, who was officially named MPD director in August, said hearing from fellow panelists and the audience deepened his conviction about the close connections between drug abuse and crime.
"We learn so much at these events, and it impacts what we do." he said. "We need more things like drug court. We need more rehabilitation. Drug abuse is the root cause of crime, and it is devastating our community. We cannot keep our heads in the sand."
Where is heroin in Memphis?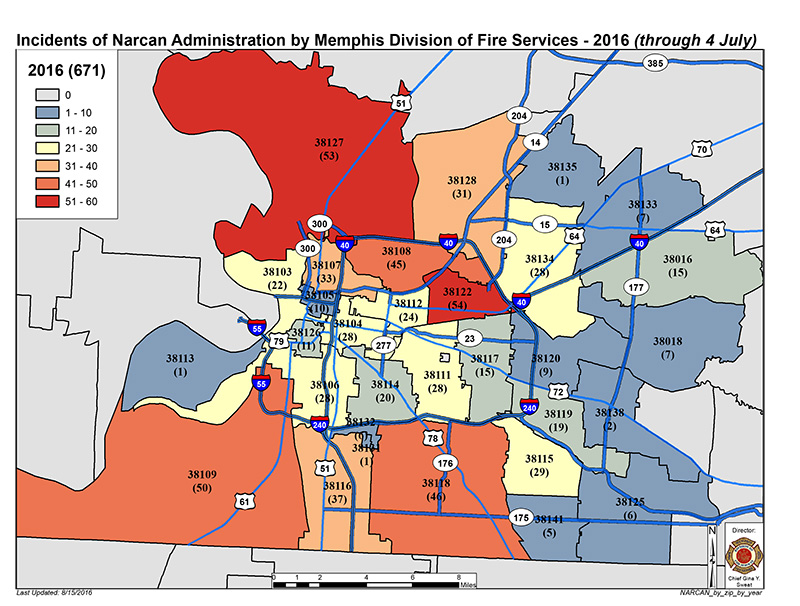 A map provided by the Memphis Fire Department shows where emergency crews have given Narcan during the first half of 2016. "It's literally everywhere," said Pam Kiestler, MFD's Deputy Chief for EMS. "There's not a zip code that's not affected, and it is growing in almost every zip code."
Q&A — For someone who has a heroin addict in their family, what's the most important thing they can do from your perspective?
MPD Chief Michael Rallings
"You've got to take action. Get them help or they're going to die. Death is final. A lot of times we play around with issues, and I don't particularly care to do that — because I see the bodies stacking up. They've got to make that decision to change. They need to talk to some people who are going to tell them the real nasty truth about this."
Deputy Chief Pam Kiestler, MFD EMS
"Stay approachable. Let them know that no matter how many times they've tried and disappointed you, you're always going to be their family member and love them, and advocate for them. That certainly doesn't mean you enable their behavior. But just be approachable. Be that port in the storm that they're going to need when they finally get to that point where they can't do this anymore. God willing they'll live long enough to get there."
Tom Fowlkes, MD, Founding Chief Medical Officer, Oxford Treatment Center
"Reach out and talk to people who are experienced in working with people in addiction and getting through to them. You need to understand that addiction is a brain disease. We're not talking about a moral failing, and we're not talking about somebody just having bad judgment. The chemistry of your brain is dramatically different. Diseases have symptoms, and some of those symptoms are lying, avoidance and denial. You need to expect that and don't be fooled. Continue to reach out and try to get them help. In this case, with heroin, they could end up dead."
Bethany Morse, Oxford Treatment Center alum and recovery advocate
"Don't lose hope in your loved one. So many times, parents contact me and ask, 'Is he ever going to get it?' As long as there is breath, there is hope. Don't ever give up."
6 Ways to End the Silence
Silence is an ally of addiction — but it's also a far softer target. Breaking the silence is a way virtually everyone can join the fight against heroin:
Help spread awareness that heroin use is on the rise, across the nation and locally. People need to know that all ages and socioeconomic groups are at risk. They need to know that dependence on innocent-looking pain pills can quickly lead someone to heroin as a cheaper, stronger alternative.
Talk to young people about the dangers of drug use. It's a message they need to hear younger than you might think.
Call 911 immediately if you believe someone has overdosed. Tennessee and Mississippi are both among states where "Good Samaritan Laws" offer protection from criminal charges when you call 911 to help save your own life or someone else's.
Connect with others for support. Family Hope & Healing, our free therapist-led support group, and Heroin Anonymous, an independent 12-step group, both meet Tuesdays at 6 p.m. at our Olive Branch Outpatient Office.
If you or someone you care about is trapped in addiction to heroin or another substance, find treatment by calling AAC's Angela Quadrani at (901) 484-1929.
Join the Recovery Community
Let us help you get started with the rest of your life! Take a step back from your life and get the help you need at our premier drug and alcohol addiction center. Nestled in the countryside 1.5 hours from Memphis, Oxford gives you the support you need in a calm and beautiful setting.